Bikablo Visual Storytelling Training
Ready to deepen your Bikablo skills? In this three-day Bikablo Visual Storytelling training course, you will learn how to transform even dry, complex subjects into vivid visual stories.
Drawing and storytelling are ancient cultural techniques that allow knowledge to be experienced, conveyed and kept alive. Today, visual storytelling is increasingly used in organisations, as a way to support processes by ensuring that the change process is understood by all stakeholders. Examples include 'design thinking', the development of 'customer journeys' and large-scale 'strategic visualisations'.
You will learn this in the Bikablo Visual Storytelling Training
Visual Storytelling
Expanding the visual repertoire with the Bikablo emotive characters, large-format layout techniques and visual dramatic composition
Hero Journey: Create and draw heroes that convey your subject matter as an exciting story. Develop characters and style characters. 

Tap into your creativity to find forms other than the obvious ones. 

Get to know the background and structure of a visual story.

Work with frames to get the main scenes of your story concisely. This way, you can convey the messages in a more emotional and vivid way, opening a door to education, discussion and change in a way that is much better to 'death by PowerPoint'.
Your own style
Through feedback from the other participants, discover your strengths and optimise your style.

Learn from our trainers on how to optimise details in typography, colour design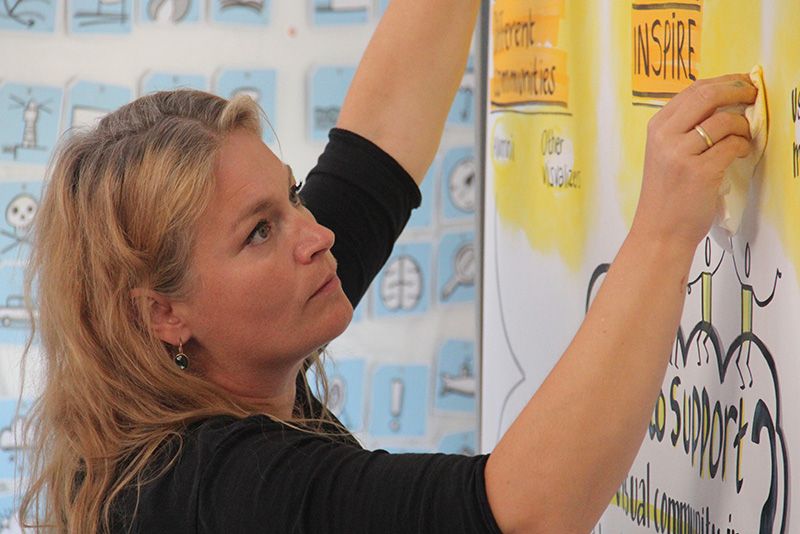 The Bikablo trainer
As a certified Bikablo® global trainer, Maaike Borsboom of INKSIGHT is part of the international Bikablo trainer network. Like no other, she knows how to create a positive environment in which learning and creativity are given full scope. Depending on the group size/type of training, she does the training alone or together with a Bikablo colleague, a true celebration!